BBL HERO™
Worried your age spots or rosacea make you look less radiant? With BBL they'll be a thing of the past!
The light energy delivered by BBL will gently heat the upper layers of your skin. The heat absorbed by the targeted areas will stimulate your skin cells to regenerate. This corrective process will restore your skin to its natural beauty, making it clearer, smoother, vibrant, and younger-looking.
ClearSilk
ClearSilk is a quick facial-like procedure that can be done any time of year with no-downtime. It utilizes non-invasive, non-ablative laser technology delivering micro-pulses of laser energy to the skin to safely, discretely and effectively to treat a variety of skin concerns.
Forever Bare BBL
Finally, a VIRTUALLY PAIN FREE removal procedure has arrived!
We are proud to introduce Forever Bare BBL Hair Removal, which uses a unique technology to offer faster and more effective treatments – virtually PAIN FREE. AS COMFORTABLE AS A HOT STONE MASSAGE.
Forever Clear V
Depending on the severity of your acne we are able to utilize a combination of light and laser therapies to effectively clear up affected areas and minimize flare-ups. This alternative to prescription medication has minimal side effects and typically takes 6 treatment sessions. Maintenance treatments average every 6 months after your initial therapy.
Forever Clear BBL
Have you tried numerous methods to get acne under control? Now, you can start seeing clearer skin in a few short treatments. Forever Clear BBL™ is a cutting-edge acne treatment that uses the power of light to comfortably and effectively clear acne without creams or medicine. BroadBand Light™ is the world's most powerful IPL (Intense Pulsed Light) device delivering light energy deep into your skin to help treat acne, leaving you with clear, healthy skin.
ACNE? A Must Watch Video:
Stop Suffering with Acne and Start Feeling Better About Yourself – Today!
Ask Us About This New Laser ACNE TREATMENT
Increase Your Self Confidence and Self Esteem;
Reconnect with Family, Friends, at School and Work;
Stop Spending Endless Dollars on Make-up to Cover-up;
Have Fun Once Again; Enjoy the Skin You Are In!
Forever Young BBL
We utilize Broad Band Light (BBL) to effectively address sun damage, age spots, liver spots, rosacea, flushing, vessels and more. Additionally, studies from Stanford University done with our equipment have proven that regular PhotoFacial "maintenance" treatments actually delay skin aging. You will see improvements after your first treatment; however, we recommend a package of 4 treatments spaced 3-4 weeks apart for optimal results.
Forever Body BBL
Improving visible signs of aging anywhere on the body, in just minutes!
The Forever Body BBL™ treatment is a no-downtime, comfortable procedure that eliminates the visible signs of aging, such as age spots, sun spots, redness or dull-looking skin. Improving skin's appearance anywhere on the body.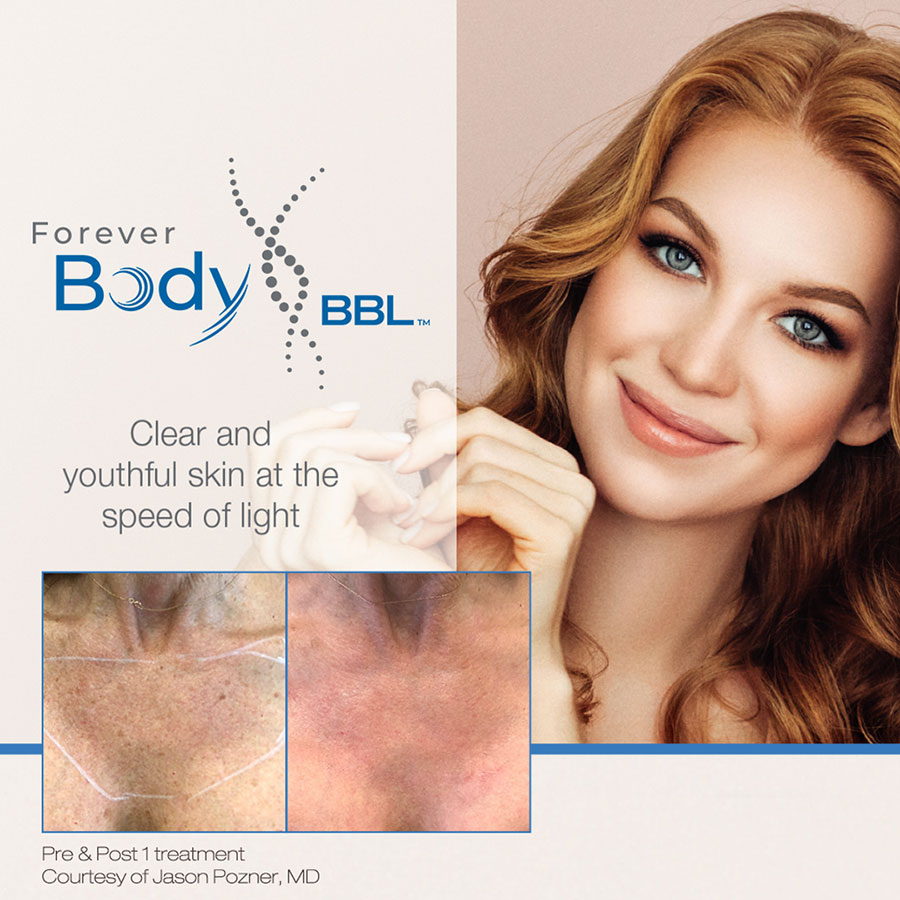 BBL Phototherapy
Photorejuvenation can treat sun damage, age spots (sun induced freckles), Benign brown pigment/irregular pigmentation, and redness caused by broken capillaries. Treatment can be used effectively on the neck, chest, legs, arms and hands.