Treating Skin Cancer with Superficial Radiation Therapy
Our Sensus IG-SRT-100 Vision Unit was recently installed and is the first IG-SRT machine in the state of Montana. Our facility offers this state-of-the-art equipment to skin cancer patients with a new, non-invasive, non-Mohs, non-surgical option to cure basal cell carcinoma or squamous cell carcinoma of the skin. Unlike the other more powerful radiation devices used for treating other cancers, IG-SRT is designed to only penetrate up to 5mm below the surface of your skin. It preserves the surrounding healthy tissue while effectively treating the malignant skin cancer cells. In other words, Superficial Radiotherapy (SRT) is a proven non-surgical choice that goes no deeper than the thickness of the skin.
This is especially important for patients who can't stop blood thinner medications, older patients with fragile skin, thick skin areas that could leave unsightly surgical scars and patients who just plain out refuse surgery for any reason. More than half of these newly diagnosed patients are over 60 and often have a higher risk for surgical complications due to diabetes, heart disease, and other medical conditions.
The national skin cancer diagnosis rate is annually estimated to be 2.5 times greater than all other cancers combined. Between 10% and 20% of skin cancer patients have pre-existing conditions that are not conducive to an invasive, surgical procedure. Many patients who have had one or more Mohs surgeries may subsequently prefer a non-surgical option.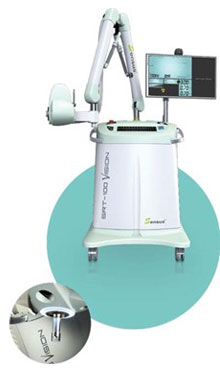 This form of treatment is especially useful and effective for head, neck and face skin cancers because there are no surgical scars (no scalpels and no needles) as a result of treatment or needed for treatment. When the skin is wounded — whether through surgery or injury — fibrous tissue called scar tissue forms over the wound. In some cases, excessive scar tissue grows, forming a smooth, hard growth over the incision or injury. This growth is called a keloid and is often much larger than the original wound. Keloids are chronic, non-malignant tumors that often form following surgery, but may also be triggered by other skin traumas, such as acne and chickenpox, ear piercing, burns and other skin injuries. These unsightly, embarrassing and sometimes painful scars affect nearly 18 million people in the U.S. Treatment can be administered in as little as two days per week for eight treatments total and is 98% effective. The actual treatment sessions last an average of 45 seconds.
There are more non-melanomatous skin cancers (basal cell and squamous cell skin cancer) each year in the U.S.A. than all other cancers added together — a total of 5.4 million new cancers like this per year. We now have a curative, non-surgical treatment option for these common skin cancers called Sensus Superficial Radiation Therapy (SRT).
Skin Conditions Treated
Basal Cell Carcinoma
Squamous Cell Carcinoma
Keloids
Treatment Process
Superficial x-rays are aimed directly at the lesion with a surrounding margin using an applicator cone selected to custom treat your skin cancer. The cone has a clear, transparent tip so that the radiation therapist can see exactly what is being treated every time. The radiation beam is confined to the inside of the treatment cone and kills all the cancer cells while selectively sparing the normal surrounding skin.
During your initial visit, the radiation therapist works with the team to customize the treatment energy, cone size, and treatment dose to your individual cancer, and monitors the progress during your treatment. At each treatment session, you are evaluated directly by the radiation therapist who places the treatment cone. The average treatment time is just 45 seconds. Temporary side effects to the painless treatment include redness and sometimes blistering of the skin, similar to a sunburn. These conditions are managed by the radiation therapist and complete healing is typically achieved within several weeks. Most patients have little or no scar tissue at the treatment site after healing is done.
Advantages of Soft Radiation Therapy
Safe & Effective
Non-invasive, non-surgical, and non-Mohs
No needles, no knives, no scar
FDA Cleared
Does not require use of anesthetics
Painless treatment
Minimal recovery time
Minimal radiation exposure to the surrounding healthy tissue
Virtually no risk of nerve damage
2021 clinical study shows 99.3% efficacy rate
Treatments last 45 seconds or less
What To Expect
During your course of IG-SRT, you can expect the following:
First, your case will be reviewed by our Board-Certified Dermatologists to make sure you are a candidate for IG-SRT.
A knowledgeable staff of Medical Providers, a Board Certified Radiation Therapist, and Medical Office Assistants are all in place to assist you during the course of your treatment.
You will review and sign an informed consent discussing treatment expectations.
A simulation where photos, ultrasound images, and treatment parameters are entered into a computer for documentation and reproducibility. (YOU WILL NOT RECEIVE TREATMENT AT THIS VISIT.)
An overview of your treatment schedule will be given (number of visits per week for a specified number of weeks).
You will generally be treated by the same Radiation Therapist each time you come in, but all the Radiation Therapists that would cover time for your normal Therapist are equally trained and qualified.
Your Radiation Therapist will evaluate your skin reaction daily, and every 5 treatments you will be seen by an Associated Dermatology Medical Provider for evaluation.
Your care team will recommend medication as needed for skin reactions, change your treatment (if necessary), or place you on a break for a short period of time if the skin needs some rest from treatment.
Your skin will heal up quickly after your course of treatment is completed.
You will then come back in for a 2 week and a 6 week follow-up appointment to check the progress of your treatment site.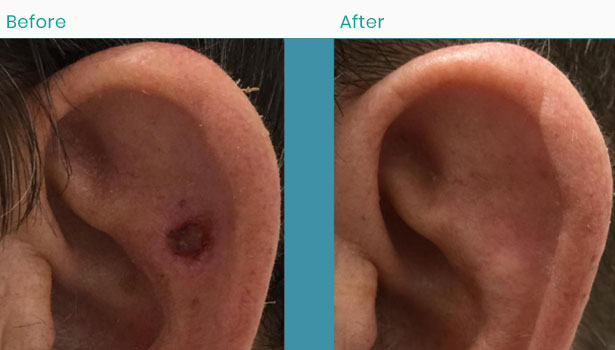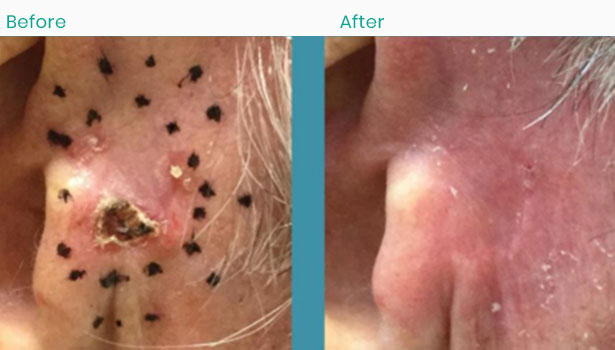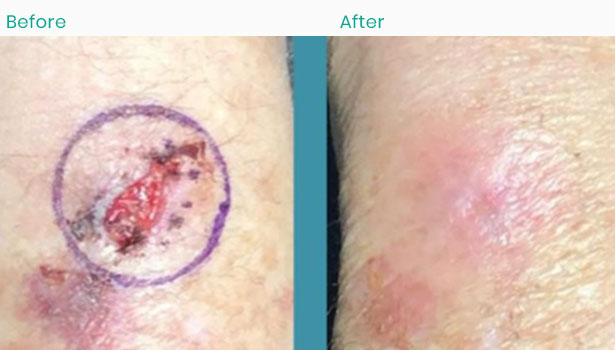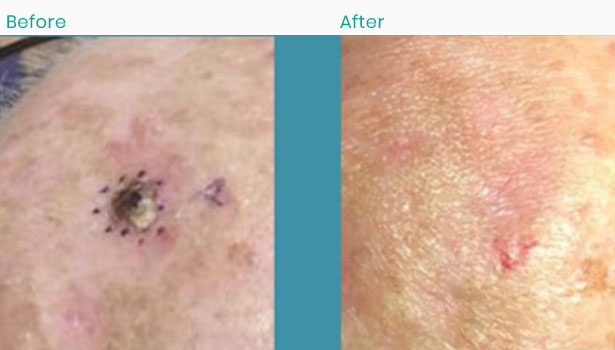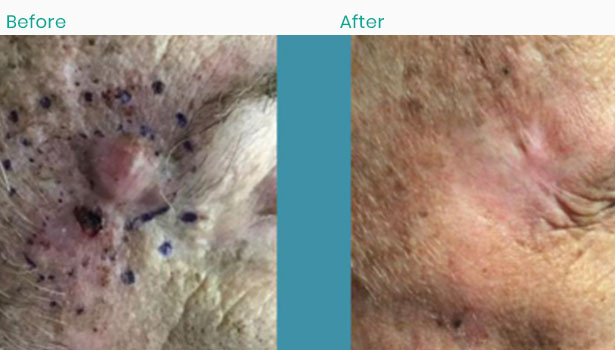 ---
---
Learn more at gentlecure.com